---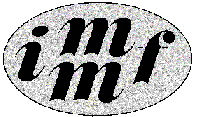 Fifth Slovenian International Conference On Graph Theory
June 22-27, 2003, Bled, Slovenia
---
Last updated: 14. 7. 2003
---
Scientific Committee: Sandi Klavzar, Dragan Marusic, Bojan Mohar, Tomaz Pisanski

Organizing Committee: Bostjan Bresar, Martin Juvan, Aleksander Malnic

---
The information on the following topics is available:
---
IMPORTANT INSTRUCTIONS
Payment of registration fee (for foreign participants), hotel and transfer reservations are handled by agency Albatros Bled. Registration for the conference is handled by the organizers.
---
GENERAL INFORMATION
The Fifth Slovenian International Conference On Graph Theory will take place from June 22 to June 27, 2003 at Lake Bled, a beautiful vacation resort in Julian Alps in the North of Slovenia. It is only a half hour drive from the Ljubljana international airport as well as from the borders with Austria and Italy. The conference site is Hotel Kompas. Please note that the scientific program starts Sunday, June 22, in the afternoon.

Conference address:

         IMFM
         Graph Theory Conference
         Department of Mathematics
         Jadranska 19
         SI - 1000 Ljubljana, Slovenia

Email: bled03@imfm.uni-lj.si
---
PLENARY SPEAKERS
The list of plenary speakers includes:

We are very pleased that our invitation to the conference was accepted also by
Jack Koolen, Korea Advanced Institute of Science and Technology, Korea
Thomas Tucker, Colgate University, USA
Mark Watkins, Syracuse University, USA
---
IMPORTANT DATES
| | | |
| --- | --- | --- |
| May 15 | ........ | Early registration and hotel reservation ("early fee") |
| June 5 | ........ | Abstract submission |
| June 27 | ........ | Submitting paper for proceedings |
---
REGISTRATION
The registration fee is 210 EUR if received before May 15, 2003 and 240 EUR if received after May 15, 2003. The reduced fee for graduate students is 140 EUR if received before May 15, 2003 and 170 EUR if received after May 15, 2003 (see table below). The conference fee includes conference dinner, excursion, refreshments during breaks, transfer from the airport/railway station to the conference hotel and conference materials. If you do not want to take part at the conference excursion, you can register at a reduced rate (see table below).
including excursion
without excursion

| | | |
| --- | --- | --- |
| | early | late |
| normal | 210 | 240 |
| reduced | 140 | 170 |

| | | |
| --- | --- | --- |
| | early | late |
| normal | 170 | 200 |
| reduced | 110 | 140 |
The registration fee for accompanying persons is 110 EUR. It includes conference dinner, excursion and transfer from the airport/railway station to the conference hotel.
---
THE SCIENTIFIC PROGRAM
The official program will start on Sunday, June 22 in the afternoon and close on Friday, June 27 around noon.
---
ABSTRACTS
Abstracts of talks should be submitted as soon as possible but not later than June 5th. They can be sent by standard mail, or by email to the conference address. No specific format is requested but make sure to include your (and your coauthors') name(s), affiliations and a brief description of your results. If possible, try to limit the length to one page.
---
SUBMITTING PAPERS FOR PROCEEDINGS
The conference proceedings will be published as a special issue or volume of Discrete Mathematics. The deadline for submissions of papers is June 27, 2003 (the last day of the conference). They have to be sent in triplicate to the conference address given above or given to the organizers during the conference. We also accept manuscripts by email or on a disk if written in TeX or LaTeX. The manuscripts should follow the general guidelines for manuscripts submitted to Discrete Mathematics. All papers will be refereed according to the usual standards of the journal.
---
SPECIAL EVENTS (to be confirmed later)
Sunday ..................... Arrival and registration
Wednesday ............. Excursion (in the afternoon) (change: moved from Tuesday)
Thursday ................. Conference Dinner (change: moved from Wednesday)
Friday ....................... Farewell Party
---
HOTEL INFORMATION
A block of rooms has been reserved for the participants in a high class Hotel Kompas (the conference venue). A block of rooms is also available in nearby Hotel Golf and in appartments Savica, a unit attached to Hotel Golf. The prices in Euros are shown below. (Prices are per person per day.)
Hotel
Single occupancy
Double occupancy
Half board
Full board
Park view
Lake view
Park view
Lake view
Kompas ****
80
50
+10
+20
Golf ****
86
92
56
60
+13
+26
Appartments Savica ***
40
+13
+26
If you need assistance in finding a roomate, please let us know.
---
LOCAL CURRENCY, CLIMATE, ETC.
The Slovenian currency is called TOLAR. Its abbreviation is SIT (SlovenIan Tolar). The exchange rate is approximately 230 SIT to one Euro. The prices are generally comparable to the prices in the European Union.
The weather in June is usually quite pleasant. Average temperatures are between 17C and 24C, for more information see weather report.
Bled is a very nice vacation resort with a beautiful lake and many interesting places to visit. There are many nice walks, hiking places, an old castle, tennis courts, golf field, etc.