Graphs on Surfaces
Bojan Mohar and Carsten Thomassen
Johns Hopkins University Press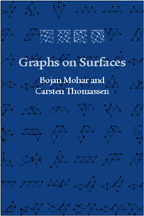 The book Graphs on Surfaces has appeared in July 2001, published by the Johns Hopkins University Press.
---
The book can be ordered online:
---
Some open problems from the book and progres towards their solution.
---
Table of contents
Preface

Chapter 1 &nbsp Introduction

1.1 &nbsp Basic definitions
1.2 &nbsp Trees and bipartite graphs
1.3 &nbsp Blocks
1.4 &nbsp Connectivity

Chapter 2 &nbsp Planar graphs

2.1 &nbsp Planar graphs and the Jordan Curve Theorem
2.2 &nbsp The Jordan-Schonflies Theorem
2.3 &nbsp The Theorem of Kuratowski
2.4 &nbsp Characterizations of planar graphs
2.5 &nbsp 3-connected planar graphs
2.6 &nbsp Dual graphs
2.7 &nbsp Planarity algorithms
2.8 &nbsp Circle packing representations
2.9 &nbsp The Riemann Mapping Theorem
2.10 &nbsp The Jordan Curve Theorem and Kuratowski's Theorem in general topological spaces

Chapter 3 &nbsp Surfaces

3.1 &nbsp Classification of surfaces
3.2 &nbsp Rotation systems
3.3 &nbsp Embedding schemes
3.4 &nbsp The genus of a graph
3.5 &nbsp Classification of noncompact surfaces

Chapter 4 &nbsp Embeddings combinatorially, contractibility of cycles, and the genus problem

4.1 &nbsp Embeddings combinatorially
4.2 &nbsp Cycles of embedded graphs
4.3 &nbsp The 3-path-condition
4.4 &nbsp The genus of a graph
4.5 &nbsp The maximum genus of a graph

Chapter 5 &nbsp The width of embeddings

5.1 &nbsp Edge-width
5.2 &nbsp 2-flippings and uniqueness of LEW-embeddings
5.3 &nbsp Triangulations
5.4 &nbsp Minimal triangulations of a given edge-width
5.5 &nbsp Face-width
5.6 &nbsp Minimal embeddings of a given face-width
5.7 &nbsp Embeddings of planar graphs
5.8 &nbsp The genus of a graph with a given orientable embedding
5.9 &nbsp Face-width and surface minors
5.10 &nbsp Face-width and embedding flexibility
5.11 &nbsp Combinatorial properties of embedded graphs of large width

Chapter 6 &nbsp Embedding extensions and obstructions

6.1 &nbsp Forbidden subgraphs and forbidden minors
6.2 &nbsp Bridges
6.3 &nbsp Obstructions in a bridge
6.4 &nbsp 2-restricted embedding extensions
6.5 &nbsp The forbidden subgraphs for the projective plane
6.6 &nbsp The minimal forbidden subgraphs for general surfaces

Chapter 7 &nbsp Tree-width and the excluded minor theorem

7.1 &nbsp Tree-width and the excluded grid theorem
7.2 &nbsp Minimal obstructions of bounded tree-width
7.3 &nbsp The excluded minor theorem for any fixed surface

Chapter 8 &nbsp Colorings of graphs on surfaces

8.1 &nbsp Planar graphs are 5-colorable
8.2 &nbsp The Four Color Theorem
8.3 &nbsp Color critical graphs and the Heawood formula
8.4 &nbsp Coloring in few colors
8.5 &nbsp Graphs without short cycles

Appendix A &nbsp The minimal forbidden subgraphs for the projective plane

Appendix B &nbsp The unavoidable configurations in planar triangulations

Bibliography
---
Revised: januar 04, 2021.